Father's Day Gift Men's Bracelet With Diamond Charms for Dad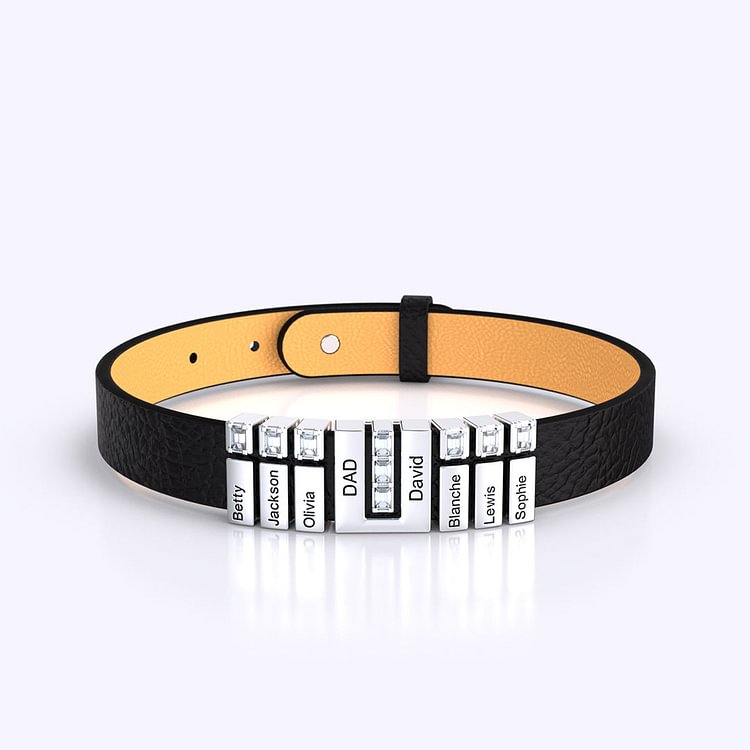 Father's Day Gift Men's Bracelet With Diamond Charms for Dad
This personalized leather bracelet makes the perfect gift for a special man in your life. Keep it simple with their names, and initials, or double-sided engrave it with a short message. The bars are removable making them reversible as well.
🧔Fatherly love is like a mountain, strong and dependable, No matter how far you go or how high you fly, Dad is always right behind you and holds your back.
💖Treat him with this unique bracelet engraved with the names of your family members. Tell him: Don't ever forget how much your family loves you💖
Specifications:
- Bead Material: Titanium steel
- Finishing: Silver, Gold, Rose Gold.
- Dimensions: Leather width measures approx. 3/8" (11mm). Silver charm measures approx. 1/2"x 1/4"(13x6.5 mm)
- Length: 4 Adjustable belt holes(6.88-10 inches)- fit for any wrist size
Note:
1. Select 1-15 charms, each one up to 12 characters. Can be engraved with any Name, Date, or Initials.
2. This product is customized jewelry and the production cycle needs 2-3 working days. We will make the products according to the order time. Therefore, in order for you to receive the products faster, it is recommended that you place an order as soon as possible.
WHY HE'S GOING TO LOVE IT:
This bracelet is a beautiful symbol of family, friendship, or values, or perhaps a combination of those, depending on the details you choose. Designed to deliver a combination of comfort and classic style with a contemporary twist, it's a steadfast reminder of the special place he holds in your heart.
Shipping Time
USA: 5-10 business days
Rest of world: 7-20 business days
If your order is not delivered by the estimated delivery time,
Please contact our customer service:
[email protected] 24/7